VACUUM/PUMP TRUCK SERVICES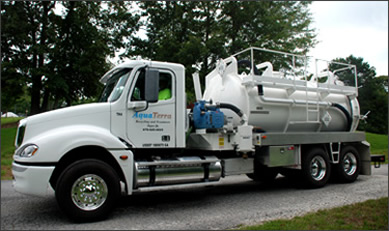 3,000 gallon vacuum/pump truck with capability to handle sludge, sand and debris. It can also transfer through pump hose while vacuuming into tank through vacuum hose.
Vacuum Trucks are the back-bone of the industrial services and waste transportation industry. Aqua-Terra's vacuum trucks and tankers range in size from 2,000 gallons to 5,000 gallons, giving us the flexibility to operate in confined areas or transport large volumes through the Southeast. Aqua-Terra can quickly and efficiently respond to your waste collection and transport needs, regardless of the size of your job.
Aqua-Terra has the in-house expertise to respond to all of your environmental and industrial cleanup issues. Expect the same great service regardless of location. Our goal is to provide the best vacuum truck services possible at competitive rates.
Aqua-Terra stands ready to provide solutions for your waste handling and disposal challenges. We provide these services to consultants, general contractors, waste generators, and manufacturing industries.
Aqua-Terra's vacuum trucks can pump and transport a wide variety of wastes including:
Oily Wastewater
Clarifier and Grit Chamber Sludge
Pipeline Recovery
Auto and Truck Wash Water
Digester Water
Food Processing Water
Non-Hazardous Waste Waters for Solidification
Spills and Releases
Industrial/Commercial Spills
Monitor Well Development
Sludge Removal
Carbon Vessels - Cleaning and Removal